Welcome to The Stock Room, the best discount furniture store in Rockford, IL! We've got a great selection of sofas, sectionals, and chairs, all made right here in the USA. And the best part? They're all sold at factory-direct discount prices in our no-frills furniture warehouse.
When it comes to furnishing your home, we know you want pieces that look good, feel comfy, and won't drain your wallet. So we've scoured furniture factories across the USA to find a wide range of furniture styles, so you can have furniture that matches your taste and fits perfectly with your home decor.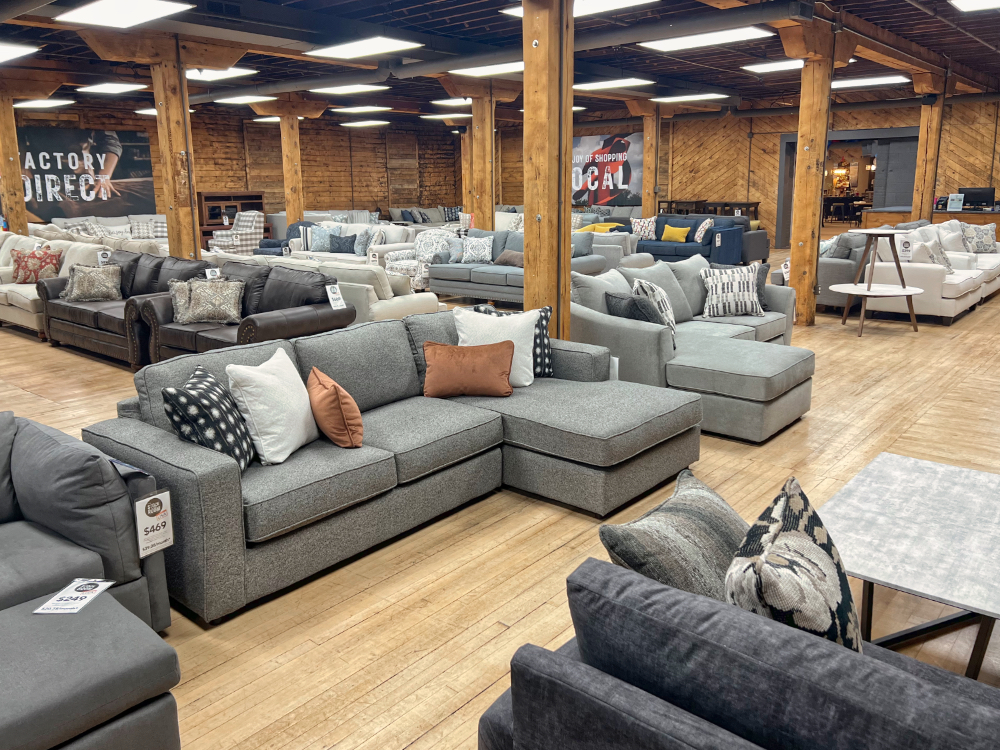 What makes The Stock Room discount furniture store special is that we cut out all the fancy branding and focus on giving you the best deals possible to fit a tight budget. We believe that everyone should have access to top-notch furniture without having to pay crazy prices. By skipping the middlemen and the extra costs, we can pass the savings straight to you. That means you'll get great discounts on every single sofa, sectional, chair, and ottoman.
One of the coolest things about shopping at our warehouse is that everything is ready to go. Don't feel like waiting weeks or months for your furniture to arrive? No prob! We've got everything in stock, so you can walk in, pick out your dream sofa or chair, and take it home with you right away. No waiting, just instant comfort.
We searched the states to find you the best quality furniture available at this price point. We want you to feel confident in your purchase, knowing that you're getting furniture that's built with solid hardwood frames, high density spring-core foam, and well-tailored upholstery. Our team handpicks each piece in our collection, making sure it meets our high standards for durability and style. So when you buy from The Stock Room, you'll get furniture that brings comfort and joy to your home for years to come.
So swing by Benson Stone Co in Rockford, IL today and experience the best discount furniture store around. Our friendly staff is here to help you find the perfect sofas, sectionals, or chairs that'll make your home feel stylish and cozy, without spending a fortune. Get ready to enjoy affordable luxury at The Stock Room, where quality, style, and savings come together in the best possible way.